16GB KIT 4GBX4 DDR2-800mhz MacPro Early 2008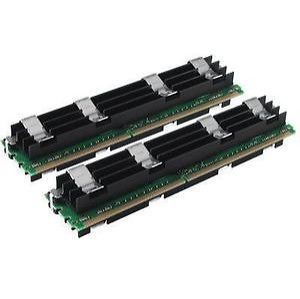 16GB KIT 4GBX4 DDR2-800mhz MacPro Early 2008
The 16GB Kit contains (4) 4GB DDR2-800, PC2-6400, 5ns Cycle Time, ECC, Fully-Buffered, 128x72, 1.8V, 240pin FB-DIMMs.
Lifetime Warranty - 30 Day Money Back Guarantee - Upgrade Questions 
For Mac Pro Early 2008
8 Slots 32GB Max (4GBX8) 

The Mac Pro DDR2 series (800Mhz) uses a type of memory called an FB-DIMM. There are eight (8) slots, and the FB-DIMMs are installed in pairs (2 at a time.) In order to run 256 Bit Addressing, modules are installed in two matched pairs (4 identical modules.) The original 1GB is installed as a pair of two 512MB FB-DIMMs.
With OS Mavericks (10.9) or above installed, the Early 2008 Mac Pro can utilize 8GB 800Mhz FB-DIMMs with a system maximum of 64GB with the installation of eight (8) 8GB modules.
All previous versions of the operating system cannot utilize the 8GB FB-DIMMs and are limited to a system maximum of 32GB with the installation of eight (8) 4GB FB-DIMMs.
All our Mac Pro DIMMs are Error-correcting Code (ECC) memory.
Heat Sinks: Eagle Memory uses the only heat sink certified by Apple for use in the Mac Pro. Other brands use heat sink types that cause overheating leading to increased fan usage and slower performance. Our heat sink runs 7 degrees cooler than the folded plate design, and 15 degrees cooler than the flat spreader design of heat sink.

Matched Modules: Eagle Memory kits contain a matched set of DIMMs. The kit consists of identical brand/model/spec IC's, with matching batch numbers. Our memory will also mate perfectly with Apple original DIMMs.
Reviews