16GB KIT (4GBX4) Memory Upgrade for iMac 2010 Intel Core 2 Duo i3 with Model ID: 11,2 & 11,3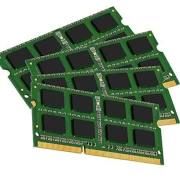 16GB KIT (4GBX4) Memory Upgrade for iMac 2010 Intel Core 2 Duo i3 with Model ID: 11,2 & 11,3
The 16GB KIT contains (4) 4GB DDR3-1333, PC3-10600, Non-ECC, Unbuffered, 1.5V, 204pin SO-DIMM
Lifetime Warranty - 30 Day Money Back Guarantee - Upgrade Questions 
For iMac 2010 with Model ID: 11,2 & 11,3
For iMac Late 2009 models with processors:
21.5" i3 3.06GHz          21.5" i3 3.2GHz
27" i3 3.2GHz
This iMac has 4 memory slots supporting up to 4GB per slot for a maximum of 16GB. Install memory in pairs for optimum performance.
Eagle Memory uses a non-stacked module for the DDR3-1333 modules for the iMac. The cheaper stacked IC variety of SO-DIMM draws more power, which increases heat and can cause increased errors. Eagle Memory ONLY uses premium non-stacked chips.
Reviews