4GB Module 4GBX1 DDR3-1067mhz MacBook Late 2009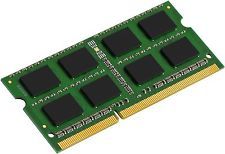 4GB Module 4GBX1 DDR3-1067mhz MacBook Late 2009
MacBook Late 2009
DDR3-1067Mhz
Maximum Memory: The"Unibody" MacBook Late 2009 and newer have a system maximum of 8GB (4GBX2).
Non-Stacked IC's: Eagle Memory uses a Non-stacked module for the 4GB SO-DIMM module for the MacBook. The cheaper stacked IC variety of 4GB SO-DIMM draws more power, which increases heat and decreases battery life. Eagle Memory uses premium non-stacked chips.
DDR3-1067, PC3-8500, CAS Latency 7, Non-ECC, Unbuffered, 1.5V, 204pin SO-DIMM.

Reviews