8GB KIT 4GBX2 DDR3-1067mhz MacBook Pro Mid 2010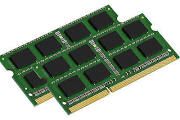 8GB KIT 4GBX2 DDR3-1067mhz MacBook Pro Mid 2010
The 8GB Kit contains (2) 4GB DDR3-1067Mhz, PC3-8500, CL=7, Non-ECC, Unbuffered, 1.5V, 204pin SO-DIMM.
Lifetime Warranty - 30 Day Money Back Guarantee - Upgrade Questions 
For MacBook Pro Mid 2010 

The original series "Unibody" MacBook Pro runs DDR3-1067 memory. The 13-inch MacBook Pro Model ID 7,1 has a 8GB max out of the box, but can be upgraded to a maximum of 16GB when running OS Lion (10.7) or newer. It is important to note the Mid 2010 MacBook Pro 17-inch model id 6,1 and 15-inch model id 6,2 are limited to 8GB.
Non-Stacked IC's: Eagle Memory uses a Non-stacked module for the DDR3 module for the MacBook Pro. The cheaper stacked IC variety of SO-DIMM draws more power, which increases heat and decreases battery life. Eagle Memory ONLY uses premium non-stacked chips.
Reviews