8GB Memory Upgrade DDR3-1600mhz MacMini 2012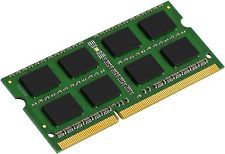 8GB Memory Upgrade DDR3-1600mhz MacMini 2012
8GB DDR3L-1600, PC3-12800, Non-ECC, Unbuffered, 1.35V, 204pin SO-DIMM.
Lifetime Warranty - 30 Day Money Back Guarantee - Upgrade Questions
Mac Mini Late 2012 and Late 2012 Server

The Late 2012 Mac Mini has two memory slots. It is preloaded from the factory with two 2GB DDR3L SO-DIMMs. You can install a maximum of 16GB with the Eagle Memory 16GB kit (2 x 8GB SO-DIMMs.)
It is important to note this does not include the Late 2014 Mac Mini, Model ID 7,1, which has onboard memory that cannot be upgraded after purchase.
Non-Stacked ICs: Eagle Memory uses a Non-stacked module for the DDR3L-1600 modules for the Mac Mini. The cheaper stacked IC variety of SO-DIMM draws more power, which increases heat and can cause increased errors. Eagle Memory ONLY uses premium non-stacked chips.
These SO-DIMMs are specifically designed and SPD configured for the Fall 2012 Mac Mini.
Reviews